The Board of Directors
The Board of Directors protects the mission purpose, provides strategic vision and offers expertise and counsel. It consists of the corporate officers plus several outside members. Board members also work in the community as part of the education focus, assist with fundraising and some, who have themselves been affected by violent death, serve as peer counselors.
Gabino Venegas, Jr. – Vice President
Gabino is a Mexican American who has served as acting President of the Rio Grande Technology Foundation, reporting to Senator Dominici. His primary responsibility was working with start-up organizations, advising on communications, technology, and fund raising. In 1998, Gabino and his wife Barbara's son, Gabino George Venegas, was killed in Albuquerque by a hit and run driver. The circumstances of the death are in question and suggest a possible cover-up. It's in honor of his son that Gabino offers his services to victims' groups dealing with homicides.
Lisa Dillon – Secretary
Lisa is retired from UNM after 21 years. She worked as a training grant administrator for graduate and post-doctoral training programs in infectious disease research and in research lab administration for UNM School of Medicine. Her retirement plans include continuing to pursue her degree from UNM and remaining active with the Eastridge Neighborhood Association for which she is currently serving as president and recording secretary for the church hosting the Association meetings.
Areas of experience: administration — medical and office, numerous fund raising venues and grant preparation for scientific research. She has for several years hosted an annual fundraiser for the benefit of Albuquerque Animal Human association.
Donald Arquette – Treasurer
After earning a Master of Science degree in engineering, Don worked for 36 years in Albuquerque, NM, at Sandia National Laboratories. During some of those years he was involved in financial management of large programs. Since retirement in 1992, he has served several churches in governing positions including finance boards, treasurer and president. He became involved with NIA/NM as a consequence of the unsolved murder of his and his wife, Lois Duncan's, daughter, Kaitlyn Arquette, in Albuquerque in 1989.
Rickford R. Parker – Board Member
Rickford, a CPA is located in Albuquerque, New Mexico, is a local tax preparer who assists with tax preparation, tax planning, bookkeeping, accounting services, estate and trust taxes and more. He volunteers his time to support this non-profit's work.
Herb Korff – Board Member
Herb spent his early years in commercial banking but most of his career has been in private and public accounting. In 2005 he retired from Public Service Company of New Mexico where he worked in corporate and tax accounting departments. He has served on various United Way workplace campaigns and served on a committee for Community Fund distribution.
Annette Bartlett – Board Member
Annette is a retired Executive to the CEO of UNM Hospitals. She currently serves as a board member of the Tablazon Neighborhood Association, Tijeras, NM and as an officer of the Tablazon Water Users Association, Tijeras, NM. Her areas of experience include administration, event management, community projects, and fund raising. She also has experience involving electronic communications.
Her son Carey was murdered in Menlo Park, CA in November, 2012 and his case is as yet unsolved.
Barbara DeLuche – Board Member
Barbara graduated with a degree in Sociology (Honors College) from New Mexico State University. She worked for State Farm while putting her husband, Denis, through school at Fort Lewis College in Durango, CO. They then moved with their their three children to Carlsbad, NM in 1977. There she taught in the Carlsbad Municipal School district. She was an active President of the Child Conservation League that raised money for indigent families and their children.
Upon moving their family to Moriarty, NM in 1992, she took a job with the Moriarty-Edgewood School District Special Services Administration as a Home-bound teacher for high school students that were physically abused, had self-inflicted injuries, as well as students debilitated by car or machinery accidents. In 1998 she became assistant-administrator for the Moriarty-Edgewood high school guidance office. Starting n 2004 she volunteered at PANCAN (Pancreatic Cancer Foundation), a non-profit organization, helping with funds raising. While there she received special training in ways to approach/contact merchants, institutions, etc. and educate communities. She retired from the Moriarty-Edgewood School District in 2010.
Judy Young – Board Member
Judy has a master's degree from Columbia University in Community Program Development and Guidance and Counseling.
She wrote the grant that started the UNM Cancer Research and Treatment Center in 1975. She was also one of three who started the first publicly funded domestic violence program in the United States that was ultimately adopted by every state in the United States.
As a retired math teacher, she was blessed in her career to work with hurting and confused teenagers and is so grateful that she was able to fulfill God's assignment of working with very high at-risk teenagers who needed someone to listen, encourage, and help them succeed in their most challenging subject – math.
Her purpose and desire now is to reach out to a hurt and chaotic world in any way she can be used. She believes the individuals involved in this organization are like minded and she is honored to be associated with such an honorable group of people.
Molly Barnes – Board Member
Century Link team member and interested community member.
If you would like to be a board member, please contact Pat Caristo at pacnia@usa.net
The Executive Director
The Executive Director leads the organization and develops its organizational culture. The ED is responsible for the day-to-day operation of the organization and for developing business plans for achieving goals set in collaboration with the Board of Directors. The ED acts in a leadership, motivational and mentoring role for staff and volunteers. The ED also leads in designing, developing and implementing strategic plans for the organization as envisioned by the Board of Directors. The ED acts as Project Coordinator for funding grants and works directly with clients and related organizations. The ED is accountable to the the Board and reports to the Board on a regular basis.
Patricia A. Caristo – Executive Director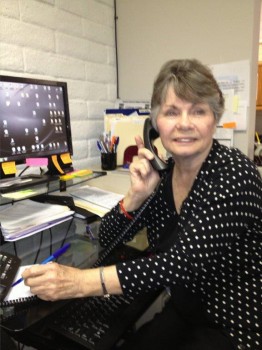 As Executive Director and Intake/Contact person for the Resource Center, Pat provides direct services to persons in the aftermath of violent death. She is also responsible for the day-to-day operations: initial contact with and intake of clients; setting up databases to follow their progress; managing staff and committees; implementing plans in a cost effective/time efficient manner; developing educational programs and materials and informational workshops, and over-seeing fund raising activities. The Executive Director is directly responsible to the Board of Directors.
Pat is the initial owner and service provider of NIA/NM. She has had many years of investigative experience – first with the Philadelphia Police Department (which commended her for heroism) and then with the UNM Police Department and the NM Organized Crime Prevention Commission. Pat is trained and experienced as an intelligence analyst and crime-prevention specialist. She has taught sex crimes investigation/crime prevention classes at the NM Law Enforcement Academy and the UNM Law and Medical Schools. She currently teaches investigative-related classes for the UNM Continuing Education Department.
Pat has been a licensed, working private investigator since 1985, specializing in the area of unsolved homicide investigations. In 2005, she was named to the City of Albuquerque Accountability in Government Committee with oversight over the Office of Internal Audit and the Office of the Inspector General, a position that she continues to hold today. Since 1999, she has provided pro-bono services to groups serving victims of homicide.
Victims' Advocates
All Victims Advocates are trained and certified and will provide active support to victims, working with law enforcement, the justice system and other agencies. Advocates will educate victims about their rights and available resources and assist them in filing claims and in dealing with other issues as needed.
Joan Shirley, Director of Victims' Advocate
Joan has been a nationally credentialed victim advocate through the National Organization for Victim Assistance (NOVA) since 2007. She has served as a board member for the NM Crime Victims Reparation Commission since 2009. She is a long-standing appointee for the NM Intimate Partner Domestic Violence Death Review Team and serves on their "Family and Friends" committee, which works with the victims' families. She is a group facilitator for the Greater Albuquerque Chapter of the Compassionate Friends and has been its program director since 2008. Joan and Wayne Shirley are the parents of Kevin Shirley, who, along with two friends, Matthew Hunt and Luis Garcia, were shot to death in the Tijeras Canyon area in 1999. An arrest was made years later, but the case is unresolved. Joan has worked with families of homicide since the death of her son.
Victim Counselors
Group and one-on-one help from others who have experienced personal loss due to homicide and other violent deaths. Spanish-speaking peer counseling is available.
Volunteer Counselor List:
Valerie Martinez
Gabino Venegas
Barbara Venegas
Susan Williams
Professional Volunteers
Professional Volunteers provide special expertise, without charge, to victims of violent crimes and their families.
Professional Volunteer List:
Dr. Gail Feldman – Psychologist
Greg Gaham – Attorney
Bert Parnall – Attorney